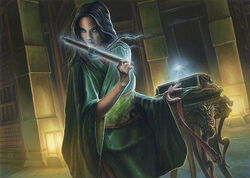 Moshi Madoka was a Thunder shugenja and scout of the Mantis Clan.
Demeanor
Edit
Madoka was a disciplined and conservative young woman who rarely spoke unless asked a question. She was highly principled and much respected among her family for her strong moral fiber. [1]
Colonies
Edit
Madoka was an agent of the courtier Yoritomo Hama. In 1198 the Imperial Governor of the Colonies Ikoma Katsuru had been killed in the Second City by a Dark Naga and the Empress Iweko I appointed Otomo Suikihime as his succesor. Madoka collected information about the Otomo, who would be passed to Hama's Lord Yoritomo Hiromi. [2]
Ivory Court
Edit
In the aftermath of the Siege of the Second City the Ivory Court was joined by Susumu Haikaro, and quickly became well known among the courtiers of the Second City. They discussed about the performances which displayed the accounts of different confrontations among samurai exploring the untamed lands. [3]
External Links
Edit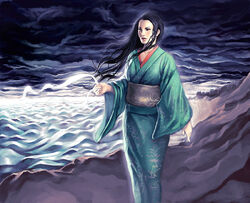 References
Ad blocker interference detected!
Wikia is a free-to-use site that makes money from advertising. We have a modified experience for viewers using ad blockers

Wikia is not accessible if you've made further modifications. Remove the custom ad blocker rule(s) and the page will load as expected.