Moshi Kamiya was a thunder shugenja of the Mantis Clan.
Kamiya was the sister of Moshi Chuuna. [1]
Destroyer War
Edit
In 1171 during the Destroyer War Kamiya and her sister were onboard the Unknown Path when an Ivory Kingdoms' warship commanded by the Destroyers attempted to sneak the Mantis concealed in a magical fog. The scout Tsuruchi Gosho spotted the enemy and without the surprise as advantage the demons were rammed and assaulted. [1] The gaijin ship had been manned by Centuriae, a more mobile and lithe unit of the Destroyers. [2]
Kamiya bore a daughter, Moshi Karuiko. [3]
External Links
Edit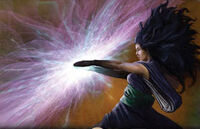 References