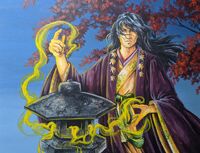 Moshi Junichi was a young, pleasant, and enthusiastic shugenja. He joined Amaterasu Seido to improve his magic abilities. Junichi often worked on the kobune of the Mantis Clan, using his magic to help the ships had smooth sailing. Ships he sailed with often have very pleasant voyages. [1]
Mantis Civil War
Edit
Junichi was a supporter of the Daughter of Storms, Yoritomo Kumiko. The Moshi sailed with Kumiko in her return to the Mantis islands. [2]
External Links
Edit
References
Ad blocker interference detected!
Wikia is a free-to-use site that makes money from advertising. We have a modified experience for viewers using ad blockers

Wikia is not accessible if you've made further modifications. Remove the custom ad blocker rule(s) and the page will load as expected.