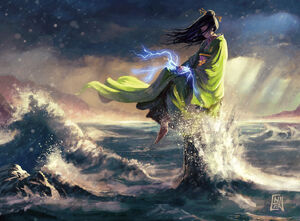 Moshi Ira was a Thunder shugenja of the Mantis Clan. She visited the Green Lake Dojo and met its sensei Tsuruchi Shichiro. [1]
Suzume Hills
Edit
Shortly after the Spider infiltration was removed from the Sparrow Clan, Ira was sent to the Suzume Hills. She honored the agreement between both clans,the first priestess there in more than twenty years. Ira was met by the Sparrow Clan Champion Suzume Ryosuke himself, and his personal yojimbo, Suzume Tatsu, formerly known as Daigotsu Ryudo. [2]
External Links
Edit
References
Ad blocker interference detected!
Wikia is a free-to-use site that makes money from advertising. We have a modified experience for viewers using ad blockers

Wikia is not accessible if you've made further modifications. Remove the custom ad blocker rule(s) and the page will load as expected.