Moshi Hito was a bushi of the Centipede Clan who served in Toturi's Army. [1]
Finding Toturi
Edit
He accompanied Ginawa and Matsu Hiroru to search the Hidden Emperor, but it was a trick to sabotage their search. Hito had been replaced by a minion of the Shadows to foul them. [2]
Infiltrated in Phoenix Lands
Edit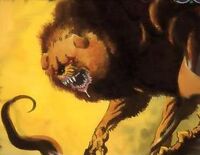 Hito was a Shadow Beast who began a careful assassination and infiltration into the Phoenix. He was killed in 1133. [3]
References
Ad blocker interference detected!
Wikia is a free-to-use site that makes money from advertising. We have a modified experience for viewers using ad blockers

Wikia is not accessible if you've made further modifications. Remove the custom ad blocker rule(s) and the page will load as expected.