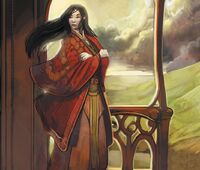 Moshi Chuuya was a bushi and magistrate of the Mantis Clan.
Training
Edit
Chuuya was one of the rare Moshi without magical abilities. She was accepted in the Tsuruchi Magistrate school. [1]
Chuuya was appointed at Houritsu Mura and distinguished herself well among the magistrates there. [2]
Service in Dragon lands
Edit
In 1170 Chuuya led a small command of archers into the lands of the Dragon Clan on orders from late Otomo Hoketuhime. They were tasked with removing bandits, [1] as the Tengoku's Justice or the lord known as the Son of the Moon. [2] In the road to Toi Koku she and her companions Tsuruchi Fuyu, and Tsuruchi Masako began the mission killing several brigands. The Dragon, led by Mirumoto Jairuzu, saw this as an unwarranted incursion into their territory [1] and tried to detain the Mantis detachment. Two Dragon were killed in the ensuing skirmish, but no Mantis were killed. Chuuya reported her success back to her superior, Moshi Kalani. [2]
External Links
Edit
See Also
Edit
References