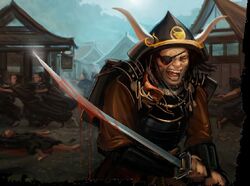 Inoue, the Scourge of the Plains, became a member of the Ox Clan during the Age of Conquest [1] as Morito Inoue. [2] He later joined the Lion Clan.
Joining the Ox
Edit
Inoue rode with bandits when young, fighting as a merciless warrior. During the Destroyer War fought the gaijin horde, and feared by his opponents. In the wake of the war, Inoue was forgiven for his crimes and welcomed home as a hero by the Ox Clan, as part of their rebuilding program. Inoue rose among them as a renowned military leader. [1]
Joining the Lion Clan
Edit
Inoue was an ambassador of the Alliance of Minor Clans [2] to the Lion Clan, and eventually he joined the Great Clan. [3]
External Links
Edit
References