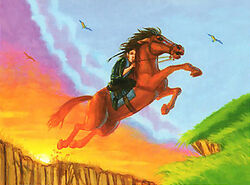 Morito House Guard was the Elite guard of the Ox Clan, protectors of their clan's Champion and its most important personages. They were originally simply called the Ox House Guard, but the name was changed once the Morito family was created. [1]
The house guard consisted of Morito's most trusted and experienced men, absolute devotees of the Kolat, and their true charge was the Hidden Temple, headquarters of the Kolat conspiracy. [1]
Since the Kolat was purged from the Ox's ranks in 1170, the new Ox Clan Champion Morito Garin repopulated the entire Morito House Guard. Every previous member had died in defense of the Hidden Temple, except for a few who fled and were tracking down and killed by the Scorpion Clan. The newly recreated unit was filled with untested warriors, but loyal to the Empire. [1]
Known Technique
Edit
External Links
Edit
References
Ad blocker interference detected!
Wikia is a free-to-use site that makes money from advertising. We have a modified experience for viewers using ad blockers

Wikia is not accessible if you've made further modifications. Remove the custom ad blocker rule(s) and the page will load as expected.