Please note: This article is about the word for Forests. For other uses of the term, please see Mori (disambiguation).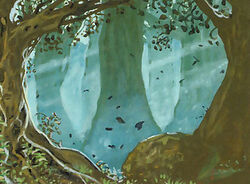 Mori is the Rokugani word for Forests or Woodlands.
Forests varied greatly from one part of the Empire to another. In the north dominated woodlands of great coniferous, pine, oak, spruce, birch, and maple. Southward, the most common woodlands were comprised by maple, oak, apple trees, birched, willows, pear trees, and plum trees. Central and south-central Rokugan was dominated by bamboo trees. On Rokugan's southern coasts and in the Mantis Isles black ebony, red mahogany, strong balsa, teak, ash, hackberry, palms, and various fruit-bearing trees were common. [1]
Rokugani Forests
Edit
Colonial Forests
Edit
References
↑ Emerald Empire; Fourth Edition, p. 20
Ad blocker interference detected!
Wikia is a free-to-use site that makes money from advertising. We have a modified experience for viewers using ad blockers

Wikia is not accessible if you've made further modifications. Remove the custom ad blocker rule(s) and the page will load as expected.