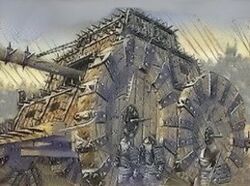 Monstrous War Machine of Fu Leng was a unique juggernaut of destruction, covered in steel spikes. [1]
Appearance
Edit
It was a massive vehicle covered in plates of rusted and blood stained iron and leather, nailed to a frame of dark wood and bone that had spikes and blades.
Abilities
Edit
The Monstrous War Machine had the ability to drain life. Each creature slained by the construct, its power grew. The drawback was that many lives must be sacrificed to the war machine before it ever entered in battle. [1]
External Links
Edit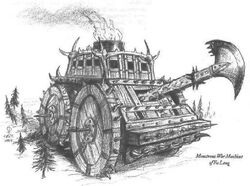 References