The Moment's Edge Bridge crossed the River of Gold and joined the Unicorn side with the Scorpion side of Ryoko Owari Toshi. [1]
It was named for the words said by Togashi Nyoko upon her lethal duel against Hida Raiden, who quickly fell under Nyoko's blade. [2]
"I am alive and dead; dead to the past and dead to the future, because I live at the moment's edge."
Defensive Duty
Edit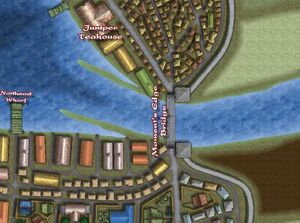 The bridge's gates went down into the water preventing warships from entering the city from upstream. Beside, the Bridge of Drunken Lovers was not gated. [3]
The Onisu Unleashed
Edit
In 1159 after the Fall of Otosan Uchi the Onisu were unleashed by Daigotsu. Muchitsujo and Fushin were killed over the bridge by Bayushi Shixiang and Bayushi Kwanchai respectively. [1]
References
↑ City of Lies: Location Guide, p. 14