Moetechi were the lesser Elemental Terror of Fire.
Moetechi were tiny spirits of destruction, floating wisps of flaming energy, vaguely humanoid in form. The more they destroyed, the stronger they became. [1] They were incorporeal and could pass through solid barriers easily. [2]
Age of Conquest
Edit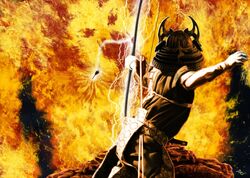 During the incidents that happened during P'an Ku's madness in the Colonies in 1199 it was known that Yoritomo Kanaye defeated and captured Moetechi, and contained it in the name of the Mantis Clan. [3]
See also
Edit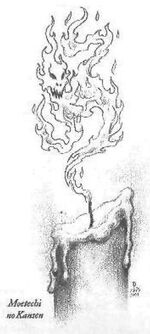 External Links
Edit
References
↑ Creatures of Rokugan, p. 17
↑ Book of Fire, p. 194
Ad blocker interference detected!
Wikia is a free-to-use site that makes money from advertising. We have a modified experience for viewers using ad blockers

Wikia is not accessible if you've made further modifications. Remove the custom ad blocker rule(s) and the page will load as expected.