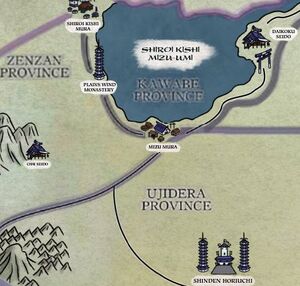 Laketown (U18) in the Kawabe province [1] was a village located on the southern shores of Shiroi Kishi Mizu-umi. The sands on the shores were pristine white, and the inland fishing village depended on the purity of the lake's waters for its trade. [2]
Founding
Edit
Laketown was the oldest permanent holding of the Unicorn, founded at the Dawn of the Empire by the few Ki-Rin samurai who stayed behind when Shinjo left. [3] When they were expelled from these lands to become the Fox Clan, the Lion took possession of Mizu Mura and ruled it until the return of the Unicorn in the 9th century. [4]
The city offered freshwater pearls, the most beautiful of their kind to be found in the Empire. [5] Its centralized location in the Unicorn lands resulted in a Great Caravan Hut, a clearinghouse where the Ide caravans stored their carts and horses during the offseason. [6]
Since the time the Fox Clan first settled there, rumors persisted concerning ningyo dwelling in the lake. The shugenja studying in the village were funded to further their research. They built a library and began to collect all manner of the most obscure lore. [6]
Alliance
Edit
The inhabitants of Mizu Mura were allies with the ningyo who lived in Shiroi Kishi Mizu-umi. Gifts of pearls from the villagers pleased the ningyo who in turn provided greater fish hauls for the villagers. The tradition was begun by a pearl diver called Bakoto. The existence of the Ningyo was kept secret to avoid any opportunist that would wish to become immortal eating Ningyo flesh. [5]
Communication
Edit
During the Clan Wars, when the Naga awakened from their slumber, many Chameleon scouts undertook a pilgrimage to Mizu Mura. When they arrived, the ningyo flocked to the shores of the White Shore Lake, eager to meet their long-dormant cousins. Naga taught several of the village elders the ningyo language. [5]
References