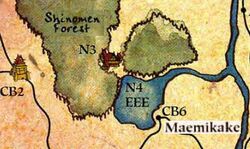 The Lake of Cherry Blossom Snow (EEE) was an icy lake where a waterfalls cascade down.
The Lake got its name from the cherry blossom trees that lined the shore of the lake. In autumn the blossoms covered the lake and it looked like it was covered in snow. [1] [2]
Festival
Edit
During the Cherry Blossom Festival many monks and devout samurai made the trip here. The truly devout sat and meditate under a tree until the blossoms fell. There was a tradition here that the individual whose tree was the last to have all it's blossoms fallen was the purest. [1] [2]
Location
Edit
The Lake was situated within the Toritaka province, [3] high above the Shinomen Forest, [4] on the Crab and Naga border. [2] The White Gold River spilled into the lake. [1]
References
↑ Secrets of the Crab, p. 75