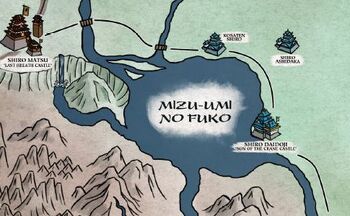 The Lake of Sorrows (PP) was also known as Mizu-Umi no Fuko, and it was the most immediate source of water near Kosaten Shiro. The Lake of Sorrows was fed by the Three Sides River. [1] [2]
Peasants had a lot of superstitions around it, as they believed it to hold the spirits of those who died at Beiden Pass and weren't buried properly. Small shrines dotted the shoreline of the lake in homage to those who fell and names were not remembered. [3] The rotting corpses of the dead walked the salty marsh around the blackened lake, [4] and it was said they were violent, attacking any who came within their territory, even dragging any who passed near them into a watery grave. [5]
References
Ad blocker interference detected!
Wikia is a free-to-use site that makes money from advertising. We have a modified experience for viewers using ad blockers

Wikia is not accessible if you've made further modifications. Remove the custom ad blocker rule(s) and the page will load as expected.