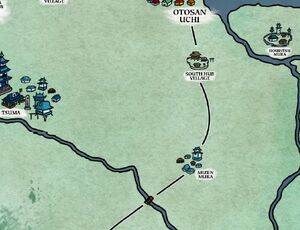 Mizen Mura (A12) was a small village which marked the border between Imperial lands and Crane lands. A unit of Seppun guarded the village, all of whom were related to the Crane in one way or another. [1]
Order of Tengen
Edit
Mizen Mura was also the location of Shinden Tengen, the temple used as a base of operation by the Order of Tengen. [1] [2]
Lion forces
Edit
In 1170 Lion forces were deployed in the city. They guarded the city on behalf of their ally the Crane, who had been heavily involved in the Third Yasuki War at that time. [3]
References
Ad blocker interference detected!
Wikia is a free-to-use site that makes money from advertising. We have a modified experience for viewers using ad blockers

Wikia is not accessible if you've made further modifications. Remove the custom ad blocker rule(s) and the page will load as expected.