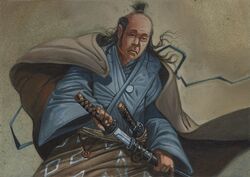 Miya Yuritogen was an Imperial Herald and duelist who became a ronin, but maintained his family name
Demeanor
Edit
Yuritogen was a jovial, friendly old man, an excellent conversationalist with a pleasant smile. Yuritogen was a renowned duelist, who only once had killed a man in a duel. He was so skilled that used to cripple or disarm his opponent. [1]
In 1125 his Lord Miya Yoto was ousted by his own son, Miya Satoshi, who wished to make the Miya a more militaristic family. Yuritogen was disgusted by Satoshi's leadership, so Yuritogen became a ronin but maintained his family name as a show of defiance. [1] He founded the House of the Green Koi at the East Hub Village. [2]
Clan War
Edit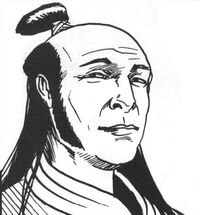 Winter Court - 1126
Edit
In 1126 he was invited to the Winter Court in Kyuden Asako at the behest of the Crane. They were seeking his advice on hiring ronin mercenaries to combat the Lion in the Lion-Crane War. [1]
Toturi's Army
Edit
He joined the Toturi's Army during the Clan War. [3]
Yuitogen was considered a hero of the War Against Shadow, and he was buried in Otosan Uchi. Years later it was built the Yuritogen's Grave in his honor. [4]
See also
Edit
External Links
Edit
References
Ad blocker interference detected!
Wikia is a free-to-use site that makes money from advertising. We have a modified experience for viewers using ad blockers

Wikia is not accessible if you've made further modifications. Remove the custom ad blocker rule(s) and the page will load as expected.