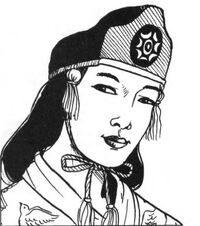 Miya Sasami was an Imperial Cartographer.
Appearance and Demeanor
Edit
Sasami was a young, beautiful, and shy woman who loved to travel, chaperoned by an elderly maid named Konoe. She always wore clothing with sparrow motifs, as she was raised by the Suzume. [1]
Unveiling the Hare
Edit
In 1125 she was provided at Kyuden Suzume with an escort of samurai by her uncle the Imperial Magistrate Miya Katsu. The group were also tasked to uncover a conspiracy that had doomed the Hare Clan and sought the destruction of its fleeing heir, Usagi Ozaki. [2]
See also
Edit
References