Ad blocker interference detected!
Wikia is a free-to-use site that makes money from advertising. We have a modified experience for viewers using ad blockers

Wikia is not accessible if you've made further modifications. Remove the custom ad blocker rule(s) and the page will load as expected.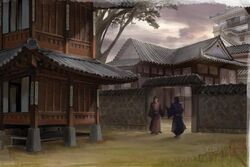 The Miya Records were the historical annals of the Miya family. [1] They were stored at Kyuden Miya, seat of power of the Imperial Herald and Miya Daimyo. [2] They were also known as the Miya Histories. [3]
Private Records
Edit
The most controversial information was kept in private logs, far from the public eyes of the many historian that researched into the Records. [2]
Yasuki Lineage
Edit
During the Four Winds age within the Miya Records were found documents that proved the Yasuki lineage of Akodo Kaneka, and his legitimate claim as Yasuki Daimyo. [4]
Scrolls Stolen
Edit
In the year 1200 a group of Scorpion Ninja stole several scrolls which had information about the Sacred Seals. [5]
External Links
Edit
References