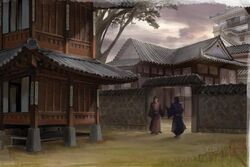 The Miya Records were the historical annals of the Miya family. [1] They were stored at Kyuden Miya, seat of power of the Imperial Herald and Miya Daimyo. [2] They were also known as the Miya Histories. [3]
Private Records
Edit
The most controversial information was kept in private logs, far from the public eyes of the many historian that researched into the Records. [2]
Yasuki Lineage
Edit
During the Four Winds age within the Miya Records were found documents that proved the Yasuki lineage of Akodo Kaneka, and his legitimate claim as Yasuki Daimyo. [4]
Scrolls Stolen
Edit
In the year 1200 a group of Scorpion Ninja stole several scrolls which had information about the Sacred Seals. [5]
External Links
Edit
References