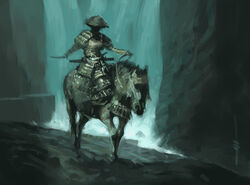 Mirumoto Yuichi was a bushi of the Dragon Clan.
After the War of the Rich Frog came to an end in 1166, Yuichi was stationed in Yamasura, a village near the border with the Unicorn. [1]
Blood Hunt
Edit
Yuichi exposed Yogo Baisetsu as a bloodspeaker, and she was involved in severeal murders that had happened in the village. Baisetsu used te maho spell Dark Wings to escape. [1]
External Links
Edit
References