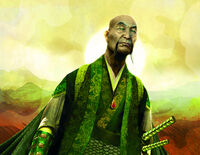 Mirumoto Yozo was a bushi and duelist of the Dragon Clan, member of the Mirumoto Mountaineers. [1]
Heart of Vengeance
Edit
During the War of Fire and Snow Yozo joined Mirumoto Junnosuke's army, which undertook an invasion of the Phoenix lands. He found his entire family had been killed in the Lion assault of Kyuden Tonbo. Yozo set to himself a goal, the destruction the Lion Clan. In the next years Yozo deliberately provoked any Lion samurai he met, so they would challenge him. [2]
Destroyer War
Edit
Yozo during the Destroyer War was beside his Lord Mirumoto Mareshi. In 1172 Akodo Hiroshi and his men, the Hiroshi's Legion, requested pass to fight the yobanjin Army of Fire nearby. They did it in an unrespectful way that enraged Yozo, but Mareshi allowed them to pass. It was later reported the Lion were all affected by the plague so they did not let contact with the Dragon. During their attack managed to kill many of the yobanjin officers, before all them died. The Dragon pressed the advantage to rout the barbarians. The Dragon spread the record of this day to honor the brave unit. [3]
Southern Front
Edit
In 1173 the Dragon forces focused their efforts in the southern front. During the battle of Shaiga, the Lion commander Akodo Tetsuru fell in battle, and Mirumoto Katsutoshi took command at the front. Mareshi told Yozo they could not trust on Katsutoshi. [4]
Near the end of the 12th century Yozo became the favored of the Fire Dragon, an aged sensei who had set aside his hatred and preached serenity to his students. [5]
See also
Edit
External Links
Edit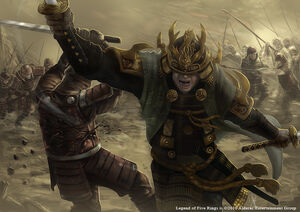 References
Ad blocker interference detected!
Wikia is a free-to-use site that makes money from advertising. We have a modified experience for viewers using ad blockers

Wikia is not accessible if you've made further modifications. Remove the custom ad blocker rule(s) and the page will load as expected.