Mirumoto Yonekura was a bushi and kensai of the Dragon Clan.
Colonial Conflicts
Edit
When the Lion accused the Spider Clan of attacking their holdings in the Colonies, the Dragon as watchers of the Spider interceded and demanded some manner of explanation that truly showed the Spider's involvement. The Lion took that as an act of defiance and began striking out at the Dragon holdings in the Colonies. [1] [2]
External Links
Edit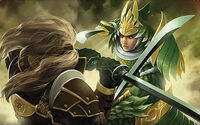 References
Ad blocker interference detected!
Wikia is a free-to-use site that makes money from advertising. We have a modified experience for viewers using ad blockers

Wikia is not accessible if you've made further modifications. Remove the custom ad blocker rule(s) and the page will load as expected.