Mirumoto Tsuda was a duelist bushi of the Dragon Clan.
Emerald Champion
Edit
In 1199 Tsuda ascend to the office of Emerald Champion, while his predecessor Utaku Ji-Yun retired and assumed the mantle of Utaku Daimyo. [1] In the finals Tsuda defeated Toku Kyoko, the Monkey Clan Champion. He selected Yasuki Umi-Ushi as his First Magistrate. Tsuda was an honorable man with a strong sense of justice who tended to follow his gut instincts. He avoided being mired in the politics of his own clan and actively avoided engaging in Dragon politics. [2]
Investigating the Kokujin
Edit
In the month of the Hare of 1200 his friend Tamori Daiishu was in the Imperial City Toshi Ranbo to record the events leading to the coronation of Iweko Seiken. Tsuda asked him to investigate the reappearance of Tattooed Monks who used the Kokujin family name. [3]
Coronation of Iweko II
Edit
During the coronation of Iweko Seiken as Iweko II, Tsuda stood next to the dais of the Emperor. As the favored vassal of the Emperor, he would stand guard during the ceremony, serving as a symbol for the entirety of Rokugan, which the Emperor would swear to rule fairly and protect. [4]
External Links
Edit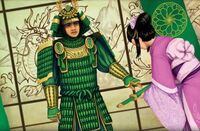 References
Ad blocker interference detected!
Wikia is a free-to-use site that makes money from advertising. We have a modified experience for viewers using ad blockers

Wikia is not accessible if you've made further modifications. Remove the custom ad blocker rule(s) and the page will load as expected.