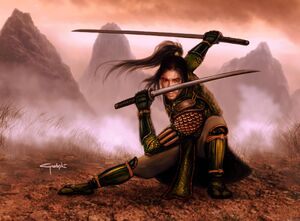 Mirumoto Tobushi was a bushi and kensai of the Dragon Clan.
Imperial Legion
Edit
Tobushi had served in the Imperial Legions for more than ten years. In 1172 he was part of the men under the command of Seppun Tashime, in his quest to find the Grey Woman. They arrived to a monastery in the Shinomen Mori, where Tashime suspected the Grey Woman was. She was not found there. [1]
External Links
Edit
References
Ad blocker interference detected!
Wikia is a free-to-use site that makes money from advertising. We have a modified experience for viewers using ad blockers

Wikia is not accessible if you've made further modifications. Remove the custom ad blocker rule(s) and the page will load as expected.