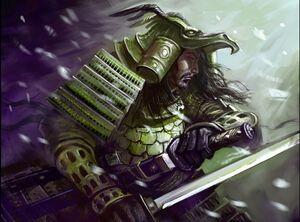 Mirumoto Taikishi was a bushi duelist of the Dragon Clan.
Naga Visit
Edit
The naga Constrictor Qolsa accompanied by Zamalash arrived to Shiro Mirumoto guided by Mirumoto Taikishi. The Naga requested to Mirumoto Mareshi to guard the Shinomen Mori with his Dragon warriors, but Mareshi was obliged to refuse. He had new duties to fulfill as Mirumoto Daimyo, husband of Mirumoto Kei, and the War of Silk and Steel. The

had refused to increase their numbers to keep safe the naga sleep, and it was seen by Kei as an omen of a new conflict with the Khan. [1]
Khan's Defiance
Edit
The Unicorn gifted the Dragon with rice, in a time they need to avoid starvation. When the Khan assaulted the Imperial City Toshi Ranbo Taikishi pondered if their honor bound to support the Khan's Defiance. [2]
External Links
Edit
References
Ad blocker interference detected!
Wikia is a free-to-use site that makes money from advertising. We have a modified experience for viewers using ad blockers

Wikia is not accessible if you've made further modifications. Remove the custom ad blocker rule(s) and the page will load as expected.