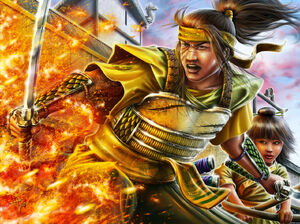 Mirumoto Rokai was a bushi and yojimbo of the Dragon Clan in the 12th century.
Training
Edit
Rokai was a quiet and contemplative samurai with a a natural talent for kenjutsu. He was eventually admitted into the elite ranks of the Swordsmasters. Rokai began to question his purpose in life, and his masters allowed him to find his true purpose. He shaved his head as a sign of dedication. [1]
The Lair
Edit
After months of wandering the Empire Rokai eventually stumbled across the Lair, a remote valley in the Twilight Mountains where the supposedly extinct Boar Clan were cut off from Rokugan since the early 6th century. The Boar explained him that he had to stay there forever as a 'guest.' He refused to join the ranks of the Lair's defenders but agreed to teach them the basics of kenjutsu. Rokai also spent time in the Lonely Monastery, debating the mysteries of the Tao with the local monks. [1]
See also
Edit
External Links
Edit
References
Ad blocker interference detected!
Wikia is a free-to-use site that makes money from advertising. We have a modified experience for viewers using ad blockers

Wikia is not accessible if you've made further modifications. Remove the custom ad blocker rule(s) and the page will load as expected.