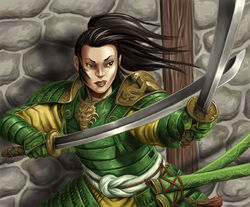 Mirumoto Reiyu was a bushi, kensai, and poet of the Dragon Clan. She was the student of Mirumoto Tsubasa. [1]
Reiyu was appointed as yojimbo to Kitsuki Jakuei, hatamoto of Miryoku no Shima, an estate in the Colonies that belonged to both the Dragon and Crane. In 1198 at the Aerie her charge met Kakita Kazan, his yojimbo Daidoji Kenshi, and the scholar Doji Iza, who given permission to inspect the texts kept by Jakuei's predecessor. It was also introduced Mirumoto Kyoshiro, a recent arrival to the island and member of the honor guard there. [2]
External Links
Edit
References
Ad blocker interference detected!
Wikia is a free-to-use site that makes money from advertising. We have a modified experience for viewers using ad blockers

Wikia is not accessible if you've made further modifications. Remove the custom ad blocker rule(s) and the page will load as expected.