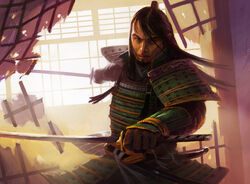 Mirumoto Michi was a bushi and kensai of the Dragon Clan. He was a student of the Iron Mountain Dojo. [1]
The Unicorn saw as a slight to honor the broken betrothal of the Dragon Clan Champion with their Lady, the Living Godess Moto Naleesh. In 1198 Michi was challenged by Shinjo Katsuo, the first Dragon he had crossed. Katsuo suffered the first blood. [1] The outcome was not known.
Investigation
Edit
In 1198 Michi was sent to the Second City, where he immediately supported Kitsuki Jakuei in his investigation of three individuals in a shop owned by the merchant Horu, who had gone mad. [2]
External Links
Edit
References
Ad blocker interference detected!
Wikia is a free-to-use site that makes money from advertising. We have a modified experience for viewers using ad blockers

Wikia is not accessible if you've made further modifications. Remove the custom ad blocker rule(s) and the page will load as expected.