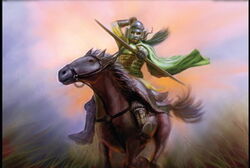 Mirumoto Kuroki was a bushi of the Dragon Clan.
War of Dark Fire
Edit
In 1171 Kuroki was a guest at Shiro Utaku when the Army of Fire assaulted the city during the Battle of Shiro Utaku. He departed with Utaku Kohana, who took the mares and foals from the stable and move them south, away from the fighting, to ensure that the sacred herd was not threatened by the yobanjin. [1]
External Links
Edit
References
Ad blocker interference detected!
Wikia is a free-to-use site that makes money from advertising. We have a modified experience for viewers using ad blockers

Wikia is not accessible if you've made further modifications. Remove the custom ad blocker rule(s) and the page will load as expected.