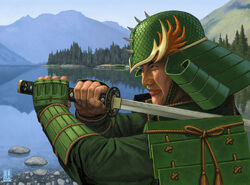 Mirumoto Houken was a bushi duelist and kensai of the Dragon Clan. He was considered a Master of the Blade and became the Favored of the Water Dragon. [1]
Mirumoto Sanji was his sensei in the Mirumoto Bushi school. Houken left the dojo to serve as yojimbo to the Dragon ambassadors in the Phoenix lands, as Kitsuki Jairi. [2]
Favored of the Water Dragon
Edit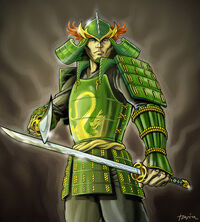 Despite Houken had not fully mastered every aspect of the Mirumoto style, he decided to change his training and requested to enter into the Mirumoto Swordmaster school. He was accepted as student after Houken defeated Mirumoto Satobe in a kenjutsu duel, and at the same time he was found worthy by the Dragon of Water, who blessed him with her favors. During the challenge Houken's strength was able to adapt quickly to changes that the mortal must face. [2]
External Links
Edit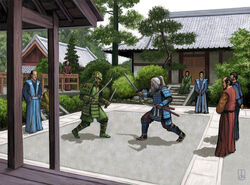 References
Ad blocker interference detected!
Wikia is a free-to-use site that makes money from advertising. We have a modified experience for viewers using ad blockers

Wikia is not accessible if you've made further modifications. Remove the custom ad blocker rule(s) and the page will load as expected.