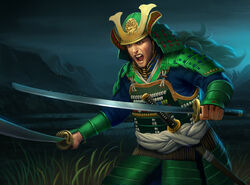 Mirumoto Hojatsu was a student of the Victory of the Living Blade Dojo, who performed his gempukku so breathtakingly that when he chose to take the name of a legend there were few that would willingly argue with him. He did seem to carry the very soul of the son of Mirumoto, and has yet to loose a duel or a skirmish. [1]
Reputation
Edit
In social situations Hojatsu did not speak, as he prefered to defer to the wisdom of elders, but in combat he unleashed a fury that could make an ogre stare in amazement. During the Dragon-Phoenix War not a single Mirumoto was feared more, and even the Lion hesitated to engage the Dragon troops when he was around. With him around the Dragon suffered fewer casualities, as his leadership was an inspiration to those around him. After all, what would they have to fear with the reincarnation of Mirumoto's son fighting beside them? [1]
Shireikan
Edit
Hojatsu rose in the ranks, reaching the station of Shireikan in the Dragon Clan Army. In addition, when the Mirumoto Daimyo Mirumoto Mareshi and Mirumoto Kei were out of the castle he and Mirumoto Bokkai were in charge of the administration of the castle. [2]
Army of Fire
Edit
In 1171 after the Destroyer War broke, the Army of Fire returned to the Empire. A large scouting Yobanjin force pushed forward into the central Dragon lands, but were successfully caught in pincer attack by Mirumoto Bokusui and Hojatsu. Bokusui was aided by sohei monks of unknown affiliation. He allowed the sohei to commandeer the supplies of the fallen gaijin, which nearly caused a challenge from Hojatsu who disagreed with Bosusui's decision. [3]
Hojatsu became a sensei and passed his knowledge to the new generations. [4] The exact fate of Hoijatsu was unknown but he was dead before the end of the 12th century. [5]
External Links
Edit
References
Ad blocker interference detected!
Wikia is a free-to-use site that makes money from advertising. We have a modified experience for viewers using ad blockers

Wikia is not accessible if you've made further modifications. Remove the custom ad blocker rule(s) and the page will load as expected.