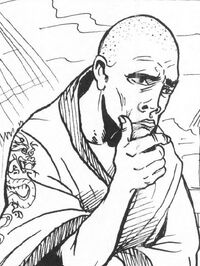 Mirumoto Hinjaku was the Hinjaku district's governor prior to the Scorpion Coup. [1]
Demeanor
Edit
Hinjaku was a quiet, unimposing man, who always appeared beaten. He was incredibly spiritual, and was sworn to celibacy and moderation, abhorring violence. [1]
Agasha Obesuko was Hinjaku's childhood sweetheart, but she was betrothed to a Phoenix bushi. Obesuko had moved to the district summoned by Hojize as another source of temptation. [2]
District Governor
Edit
Hinjaku was a monk whose cousin, the lecher Mirumoto Hojize, was Hojize district's governor. In 1121 Hojize granted Hinjaku a part of the Hojize district, [3] as a means of tormenting the pathethic monk. Hinjaku had been trapped there ever since. Hojize planned mischievous games to tempt his cousin into a lifestyle more like his own, but Hinjaku began a "cold war" for the sake of rescuing his district from Hojize's corrupion. [1]
Scorpion Coup
Edit
During all the Scorpion Coup legions of eta and heimin under the command of Hinjaku harassed the Scorpion. He eventually convinced his cousin to enter the fray. Unfortunately during the final hours of the coup Hojize died of a heart attack. Hinjaku inherited the lands of his cousin. [4]
After the Coup
Edit
The Hojize was merged with the Hinjaku district, and Matsu Hokitare was one of his most vowel supporter in the Imperial Court, against those who believed Hinjaku's inexperience and lack of social grace could not allow him to command both districts. Hinjaku retained the name "Hojize" for the newly combined district, in honor of his fallen cousin. He dedicated his resources to establishing several temples, shrines, torii arches, and other holy sites within the Hojize district. Hinjaku also cleaned up the eta villages, crematorium, and lost shrines at the northwestern edge of the Imperial City. [5]
See also
Edit
References
↑ Otosan Uchi:Book 1, p. 33
↑ Otosan Uchi:Book 1, p. 35
↑ Otosan Uchi: The Scorpion's Sting, p. 78
↑ Winter Court: Kyuden Kakita, pp. 118-119
Ad blocker interference detected!
Wikia is a free-to-use site that makes money from advertising. We have a modified experience for viewers using ad blockers

Wikia is not accessible if you've made further modifications. Remove the custom ad blocker rule(s) and the page will load as expected.