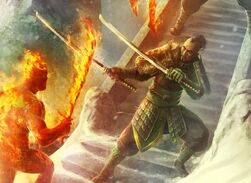 Mirumoto Haruhide was a bushi and a duelist of the Dragon Clan.
Blood Hunt
Edit
Haruhide was the commander of a unit who chased the Bloodspeakers during the Blood Hunt. When he was promoted to the courts of Toshi Ranbo, he requested his advisor Togashi Ikumu to join him there. [1]
War of Dark Fire
Edit
Haruhide was appointed as gunso to the guard of the High House of Light. In 1170 Haruhide sent word to Shiro Mirumoto to inform the castle was in danger, knowing their cavalry would not aid them in time. The Northern Towers of Flame had been breached, and yobanjin minions of the Dark Oracle of Fire Chosai had broken through. His childhood friend Mirumoto Yoma-shi who was traveling nearby came to the castle to aid in his defence. With the aid of the Brothers of Jade led by Togashi Chikato they destroyed the invaders. [2]
External Links
Edit
References
Ad blocker interference detected!
Wikia is a free-to-use site that makes money from advertising. We have a modified experience for viewers using ad blockers

Wikia is not accessible if you've made further modifications. Remove the custom ad blocker rule(s) and the page will load as expected.