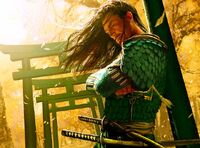 Mirumoto Etsuya was a bushi of the Dragon Clan and a member of the Gozoku.
Etsuya fought in the War of Silk and Steel. During the siege of Shiro Kitsuki he was in charge of part of the Mirumoto. [1]
Troubles
Edit
In 1168 Hitomi monks became insane and made suicidal charges against the Crane enemy during the siege of Shiro Kitsuki. Nobody knew what was causing the madness, but the Daidoji easily killed the single combatants. The Hitomi Daimyo, Hitomi Kagetora blamed on Etsuya about the orders they were given to the Hitomi. Kagetora fought to concentrate, struggling to find focus, thought warring with a rising tide of red fury. Etsuya knew something was going wrong with the Hitomi. The Dragon Clan Champion, Togashi Satsu had detected an imbalance within both the Hoshi family and the Hitomi. [1] In 1169 Satsu announced the unification the three families in the Togashi family, and began tattooing the members of the Hoshi and Hitomi with his own blood in an attempt to restore the balance. [2]
External Links
Edit
References
Ad blocker interference detected!
Wikia is a free-to-use site that makes money from advertising. We have a modified experience for viewers using ad blockers

Wikia is not accessible if you've made further modifications. Remove the custom ad blocker rule(s) and the page will load as expected.