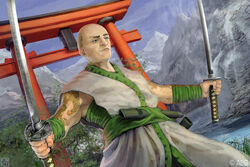 Mirumoto Bokusui was a bushi and duelist of the Dragon Clan.
Army of Fire
Edit
In 1171 after the Destroyer War broke, the Army of Fire returned to the Empire. A large scouting Yobanjin force pushed forward into the central Dragon lands, but were successfully caught in pincer attack by Bokusui and Mirumoto Hojatsu. Bokusui was aided by sohei monks of unknown affiliation. He allowed the sohei to commandeer the supplies of the fallen gaijin, which nearly caused a challenge from Hojatsu who disagreed with Bosusui's decision. [1]
External Links
Edit
References
Ad blocker interference detected!
Wikia is a free-to-use site that makes money from advertising. We have a modified experience for viewers using ad blockers

Wikia is not accessible if you've made further modifications. Remove the custom ad blocker rule(s) and the page will load as expected.