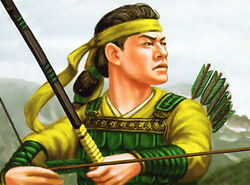 Mirumoto Atshushi was a bushi of the Dragon Clan, and a member of the Mirumoto Mountaineers.
Atshushi's father was a member of the Mountaineers and his mother was a member of the Mirumoto Talons. From an age when most kids were learning to run he showed an exceptional aptitude for climbing. It was clear he would have his pick of joining one of his parent's units when he came of age. He proved to be an excellent archer, but his love was for the mountains so he became a Mountaineer. [1]
Deployments
Edit
During his time with the Mountaineers, Atshushi was among those stationed along the southern border of the Dragon lands following the War of the Rich Frog, garrisoned there in anticipation of a Lion Clan counterattack. Later, at the beginning of the War of Silk and Steel Atshushi saw combat with the Lion but little notice was given his service. He and other Mountaineers spent many months fending off the Lion proves and Atshushi lost several friends during this period. Atshushi did not forgive the Lion for killing his friends and he modeled his behavior upon the example of warriors within the famed unit, such as Mirumoto Yozo. There were many who wished the all any Lion taken dead, but he resisted the urge to fall to that level of barbarity. [1]
External Links
Edit
See Also
Edit
Sources Conflict
The sources relating to this article are in conflict with each other.
It is clear from the trend set by some ccg cards to have a follower, in this case "Gunso Atshushi", become a personality, in this case "Mirumoto Atshushi", with the Gunso trait. However Atshushi's card incorrectly names him "Atsushi".
References
Ad blocker interference detected!
Wikia is a free-to-use site that makes money from advertising. We have a modified experience for viewers using ad blockers

Wikia is not accessible if you've made further modifications. Remove the custom ad blocker rule(s) and the page will load as expected.