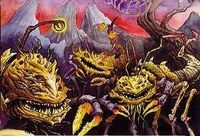 Minor Oni were summoned by Maho-tsukai who made bargains with Oni Lord to gain the service of an oni teacher. An offspring of the Oni Lord was given in exchange for favors or services of the Maho-tsukai.
These oni wielded little power, normally only physically resembling their "parent" oni in some fashion. as they adapted to their new masters, minor oni began to resemble the Maho-tsukai they served. The goal of a minor oni was to take a name, which happened several times. The Oni Lord Shikibu no Oni gained his power in such a manner. [1]
Minor Oni Servants
Edit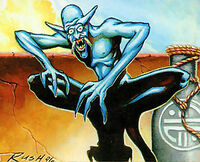 Oni servants performed a valuable function for any maho-tsukai, absorbing and regenerating destructive maho energies while providing strength to their spell caster's magic. [2]
See also
Edit
External Links
Edit
References
Ad blocker interference detected!
Wikia is a free-to-use site that makes money from advertising. We have a modified experience for viewers using ad blockers

Wikia is not accessible if you've made further modifications. Remove the custom ad blocker rule(s) and the page will load as expected.