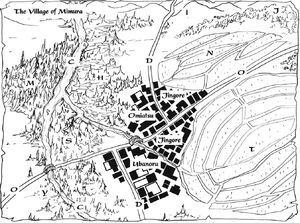 The Village of Promises was at the junction of two Imperial roads, near the foothills of the dangerous Sabishii Crags. The village had been formed merging three separate hamlets in the early 11th century. Each hamlet dedicated itself to providing the local lord with important trade goods and commodities. The eastern portion, Jingore, was dedicated to farming, the southern, Ubanoru, to trade, while to the northwest Omiatsu housed important nobility and tourists during the pleasant seasons. [1]
The hamlet was an important source of rice in the area, with fertile paddies, ensuring the gokenin enjoyed his daimyo's favor. It contained most of Mimura's houses, occupied by peasants and merchants. [2]
Other Places
Edit
Omiatsu hosted the finest homes in Mimura, although many of them collapsed as effect of a flooding that happened when the Golden Koi River slipped its banks. The waters of the river turned into a marsh while the soil became soft and fertile. There was little dry land in this portion of the village. [2]
Other Places
Edit
It started as a single inn and teahouse along a well-used road. Later, commerce in sake, lacquerware, and silk developed near the inn. The conglomeration of businesses eventually took shape into a hamlet. It wasn't long before a single ronin samurai served as protector of the hamlet. [2]
Other Places
Edit
Other places of interest in the vicinity
Edit
It was said that the resting place of Ageri Natsuri no Oni laid beneath the soil where the village was built. [14]
Known Gokenin
Edit
References
Ad blocker interference detected!
Wikia is a free-to-use site that makes money from advertising. We have a modified experience for viewers using ad blockers

Wikia is not accessible if you've made further modifications. Remove the custom ad blocker rule(s) and the page will load as expected.