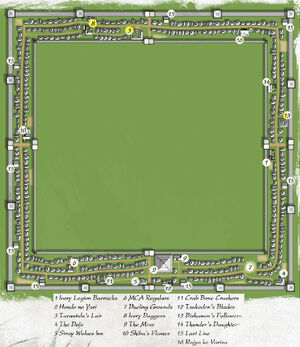 The Military District was a huge rectangular fortification which completely encircled the Old City. [1]
It housed the guardsmen of the Second City, located in its southwestern part. [2] The wall that was built designed to withstand a siege, surrounded the Military district within it. [3] Reinforced towers were located at the corners and at the four gates, with Siege Engines on top of the walls. Four sets of gates gave access to the Imperial District. [4] At the southern edge of the district the Unicorn kept a great number of their horses and the bulk of their barracks. [5]
Dark Naga Assault
Edit
In 1199 Dark Naga forces assaulted the city, and the Shakash led the serpents against the Military District, [6] breaching the eastern wall of the Imperial District. [7]
Notable Locations
Edit
The narrow streets of this District were crowded with barracks, stables, dojo, and all other manner of buildings which supported war and security. [8] The following is a list of the most notable of these buildings:
External Links
Edit
References
Ad blocker interference detected!
Wikia is a free-to-use site that makes money from advertising. We have a modified experience for viewers using ad blockers

Wikia is not accessible if you've made further modifications. Remove the custom ad blocker rule(s) and the page will load as expected.