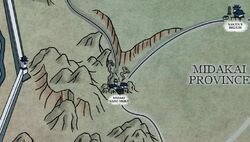 High Tree Village (CB7) was located high in the Twilight Mountains, [1] within the Midakai province. [2]
Its dwellers only saw the Crab lands below them when the tallest treetop peeks through the thick fog that perpetually shrouded the foothills — thus the name. [1]
Mining Town
Edit
Primarily an iron mining town, [1] few women or families that actually lived here, and the populace mosty constisted of the samurai and heimin that worked the mine. Some said the spirit of the Twilight Mountains, the Shakoki Dogu would sometimes haunt the village at night, inhabiting floating lights that flashed throughout the mountains. Few villagers were willing to travel deeper into the mountains, and none walked alone at night, not even in the village streets, and certainly not in the mine. [3]
Near the outskirts of Midaki sano Mura was a deep chasm with walls far too sheer for anyone to descend into it. At least a ton of debris was dumped into the chasm each month, yet somehow, it had never been filled. Somewhere deep in the chasm was a passage into one of the Spirit Realms. [4]
References
↑ Secrets of the Crab, p. 96
↑ Legend of the Five Rings : Third Edition, p. 287
↑ Secrets of the Crab, p. 47
Ad blocker interference detected!
Wikia is a free-to-use site that makes money from advertising. We have a modified experience for viewers using ad blockers

Wikia is not accessible if you've made further modifications. Remove the custom ad blocker rule(s) and the page will load as expected.