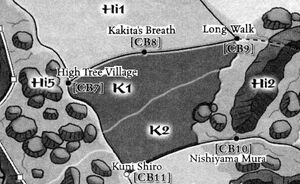 The Midakai province (K1) was a Kuni controlled province.
It bordered Ishigaki province (Hi5) to the West, Garanto province (Hi1) to the North, Juuin province (Hi2) to the East, and the another Kuni province, Adauchi (K2) to the South. [1]
Holdings
Edit
It most notably contained the two Kuni villages Kakita Bogu [2] and High Tree Village. [3]
References