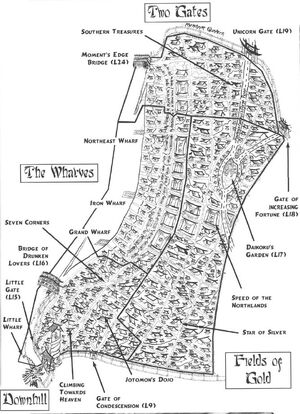 The Merchant Quarter of Ryoko Owari Toshi was the heart of the city. Hundreds of merchants plyed their trades there each day, clogging the narrow roads. There was little political or direct criminal actvities in this area, as illegal substances were more commonly stored in the many warehouses along the lakeshore and some smuggling was done on the wharves. [1] Whenever tragedy had struck Ryoko Owari, the Merchant Quarter was always the first section of town to be rebuilt. [2]
The kajinin of this quarter were the Little Gate Firemen, the Firemen of Daikoku's Garden, and the Strong Arm Firemen. [3]
Neighborhoods
Edit
This district was the largest and also the most heavily popular but not nearly so packed and overcrowded as the Fisherman's Quarter. The three great wharves dominated the affairs of the district. [4]
References
Ad blocker interference detected!
Wikia is a free-to-use site that makes money from advertising. We have a modified experience for viewers using ad blockers

Wikia is not accessible if you've made further modifications. Remove the custom ad blocker rule(s) and the page will load as expected.