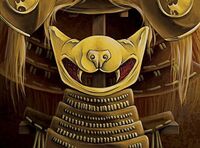 A Mempo was a full faced mask, [1] made of shaped metal, or porcelain. Often painted or sculpted to resemble a demonic face [2] to intimidate their foes. Most commonly worn on the battlefield, although many members of the Scorpion Clan would choose to wear them at all times in place of a ordinary cloth mask. [3]
References
↑ Roleplaying in the Emerald Empire, p. 126
↑ Book of Earth, p. 24
↑ Legend of the Five Rings; Third Edition, p. 312
Ad blocker interference detected!
Wikia is a free-to-use site that makes money from advertising. We have a modified experience for viewers using ad blockers

Wikia is not accessible if you've made further modifications. Remove the custom ad blocker rule(s) and the page will load as expected.