Megumi (fortune)
Talk

4
21,350pages on
this wiki
Please note: This article is about the Fortune of Heroic Guidance. For other uses of the term, please see Megumi (disambiguation).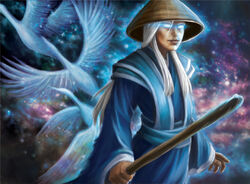 Megumi was the Fortune of Heroic Guidance. When taking human form, he typically appeared as an old man, often a peasant. In his human form he always possessed some strikingly blue article of clothing, of the finest quality. Generally, though, he appeared as a crane, not a human. [1] [2]
Topaz Championship
Edit
Legends said Megumi appeared at Tsuma, after the Topaz Championship of 1118 passed his gempukku, and the Fortune ascended to the heavens transformed in a blue-collared crane. [3]
External Links
Edit
References
↑ Roleplaying in the Emerald Empire, p. 205
↑ Legend of the Five Rings; Third Edition, p. 205
↑ Roleplaying in the Emerald Empire, p. 217