Please note: This article is about the Fortune of Heroic Guidance. For other uses of the term, please see Megumi (disambiguation).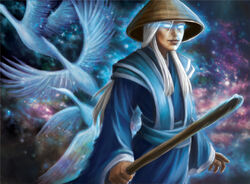 Megumi was the Fortune of Heroic Guidance.
Appearance and Demeanor
Edit
When taking human form, he typically appeared as an old man, often a peasant. In his human form he always possessed some strikingly blue article of clothing, of the finest quality. Generally, though, he appeared as a crane, not a human. [1] [2] Megumi was a mischievous entity, prone to interfere in the affairs of mortals, testing the worth and honor of samurai. Those who passed his tests were granted his blessings, while those who did not were left to their own devices. [3]
Megumi possessed a house in Tsuma. During the Topaz Championship of 1118 he let a group of competitors stay there during the tournament. The pleasent house contained four rooms, two for sleeping, one for meal preparation and a sitting room with a sunken floor. In the sitting room there were two paintings, one of Akodo Masashi and the other of Mirumoto Puhabo-Natsumu. In the yard was a small fenced in garden with a clear pond where blue-collared cranes were often fishing. [4]
Topaz Championship
Edit
Legend said Megumi appeared at Tsuma, after the Topaz Champion of 1118 passed their gempukku. The Fortune bestowed his blessing upon those who had competed before transforming into a brilliant blue-collared crane and ascended towards the heavens. [5]
External Links
Edit
References
Ad blocker interference detected!
Wikia is a free-to-use site that makes money from advertising. We have a modified experience for viewers using ad blockers

Wikia is not accessible if you've made further modifications. Remove the custom ad blocker rule(s) and the page will load as expected.