Please note: This article is about the Celestial Sword of the Crane Clan. For other uses of the term, please see Megumi (disambiguation).
Megumi, the Celestial Sword of the Crane was widely agreed to be the most beautiful of all the Celestial Swords. [1]
Megumi was one of the eight blades commissioned by Lord Sun from the Xing Guo, the Fortune of Steel, and given to the Clan Champions. [2]
Appearance and Abilities
Edit
Its hilt and tsuba were worked in gleaming ivory bound in the finest blue silk. [3] The blade was made from the purest white steel, making it look as if the sword was sculpted from ice. Unlike the other Celestial Swords, Megumi enhanced its wearer's charisma and personality in addition to their abilities in combat. Wielded in a fight or sheathed in its saya, Megumi granted its wielder mastery over battlefield and the courts. [4]
First User
Edit
It was given to Doji Kurohito, who initially refused to wield it, eschewing it in favor of the blade discovered on the day of his birth, Chukandomo. [1] After Doji Kurohito broke the curse of Chukandomo and gave it to Matsu Nimuro, Megumi had again been taken up by the Crane Clan Champion. Like the Ancestral Sword of the Crane, Shukujo, Megumi gave out a clear musical note whenever the true Crane Champion touched it. [5]
Known Wielders
Edit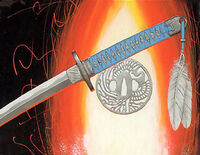 External Links
Edit
References
↑ Secrets of the Crane, p. 10
↑ Prayers and Treasures, p. 121
↑ Prayers and Treasures, p. 122
Ad blocker interference detected!
Wikia is a free-to-use site that makes money from advertising. We have a modified experience for viewers using ad blockers

Wikia is not accessible if you've made further modifications. Remove the custom ad blocker rule(s) and the page will load as expected.