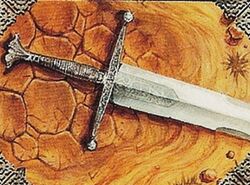 The Maul was originally a two-handed farming tool, originally used to pound spikes into the ground which came from the Merenae continent. It was a weapon similar to Crab's Dai Tsuchi, a block of wood on the end of a large handle, bound in metal bands to prevent the wood from splintering. [1]
External Links
Edit
References
↑ Complete Exotic Arms Guide, pp. 78-79
Ad blocker interference detected!
Wikia is a free-to-use site that makes money from advertising. We have a modified experience for viewers using ad blockers

Wikia is not accessible if you've made further modifications. Remove the custom ad blocker rule(s) and the page will load as expected.