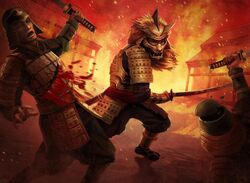 Matsu Yoshito was a bushi of the Lion Clan. He was considered a Paragon of Bushido.
Colonies
Edit
Warring the Spider
Edit
Yoshito was appointed in the Colonies. In 1198 the courtier Ide Kin claimed that Ikoma scouts assaulted Shinjo forces in the plains north of the Ki-Rin's Path, apparently over a dispute about how far north the Unicorn should explore from here. The Imperial Governor of the Colonies Otomo Suikihime turned over to the Kitsuki for judgment. Kitsuki Fujimura ruled that the use of Lion arrows supported Ide Kin's testimony that the Unicorn were assaulted without warning or provocation. The whole region would descend into war after Yoshito announced that the Lion had attacked the Spider, alongside with independent Crab attacks on the Spider. [1]
Age of Madness
Edit
During the Age of Madness many incidents happeneded, influenced by the influx of the mad dragon P'an Ku. In 1199 Yoshito was confronted by Utaku Sung-Ki, and he killed the Battle Maiden. The Lion had taken advantage with the information provided by a criminal magistrate, Yoritomo Hama. [2] Once the mad dragon was defeated, the Spider Clan Champion Daigotsu Kanpeki presented the Blood of the Preserver in the Ivory Court, a gift to the Empress Iweko I through her son, Iweko Shibatsu, who had been fostered in the Spider Clan. Yoshito blamed the Spider for the many lives the Blood had taken, and reported his Lady Akodo Dairuko would spend the winter in the Colonies, at the head of a Lion army. [3]
External Links
Edit
References