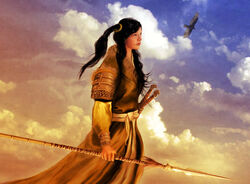 Matsu Yosa was a bushi of the Lion Clan. She was considered a paragon of the Bushido.
Demeanor
Edit
Yosa was seen as an anomaly among the Matsu, as she displayed serenity instead of anger. [1]
Destroyer War
Edit
During the Destroyer War Yosa was a member of the Lioness Legion. In 1172 they intercepted and wiped out a scouting party of the yobanjin Army of Fire. [2]
External Links
Edit
References