Matsu Warcats were specially trained lions (and sometimes other big cats), highly intelligent, used by a small unit within the Matsu family known as the Matsu Beastmasters. When in battle, Warcats were girded with special barding which protected them. [1]
See also
Edit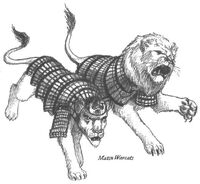 External Links
Edit
References
↑ Creatures of Rokugan, p. 42
Ad blocker interference detected!
Wikia is a free-to-use site that makes money from advertising. We have a modified experience for viewers using ad blockers

Wikia is not accessible if you've made further modifications. Remove the custom ad blocker rule(s) and the page will load as expected.