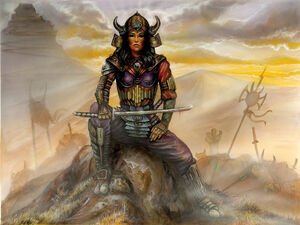 Matsu Taniko was a samurai-ko of the Lion Clan.
Most of her ancestors, up to and including her grandparents and her parents, had served as heavy regulars or, on occasion, in the Lion heavy elite infantry. [1]
Training
Edit
Taniko had a love and mastery of sports, from kemari to footraces. She was sent to the elitist Lioness Legion, chosen for the natural athletic talents that she possessed. [1]
Taniko was a promising tactician who early gained the hero status for her deeds during the Dragon-Phoenix War. The omoidasu Ikoma Hiroshi created an epic history retelling the battle which quickly gained the favor of the Lion. [2] Taniko also served with the Lioness Legion in the War of the Rich Frog, the War of Silk and Steel, and with the Matsu forces that drove the Khan's Khol army from the Lion provinces follOwing the Battle of Toshi Ranbo. [1]
See also
Edit
External Links
Edit
References